At Minardi Day in Imola the biggest event in Italy: cars and memorabilia, from Nuvolari to Schumacher, in 6-hour auction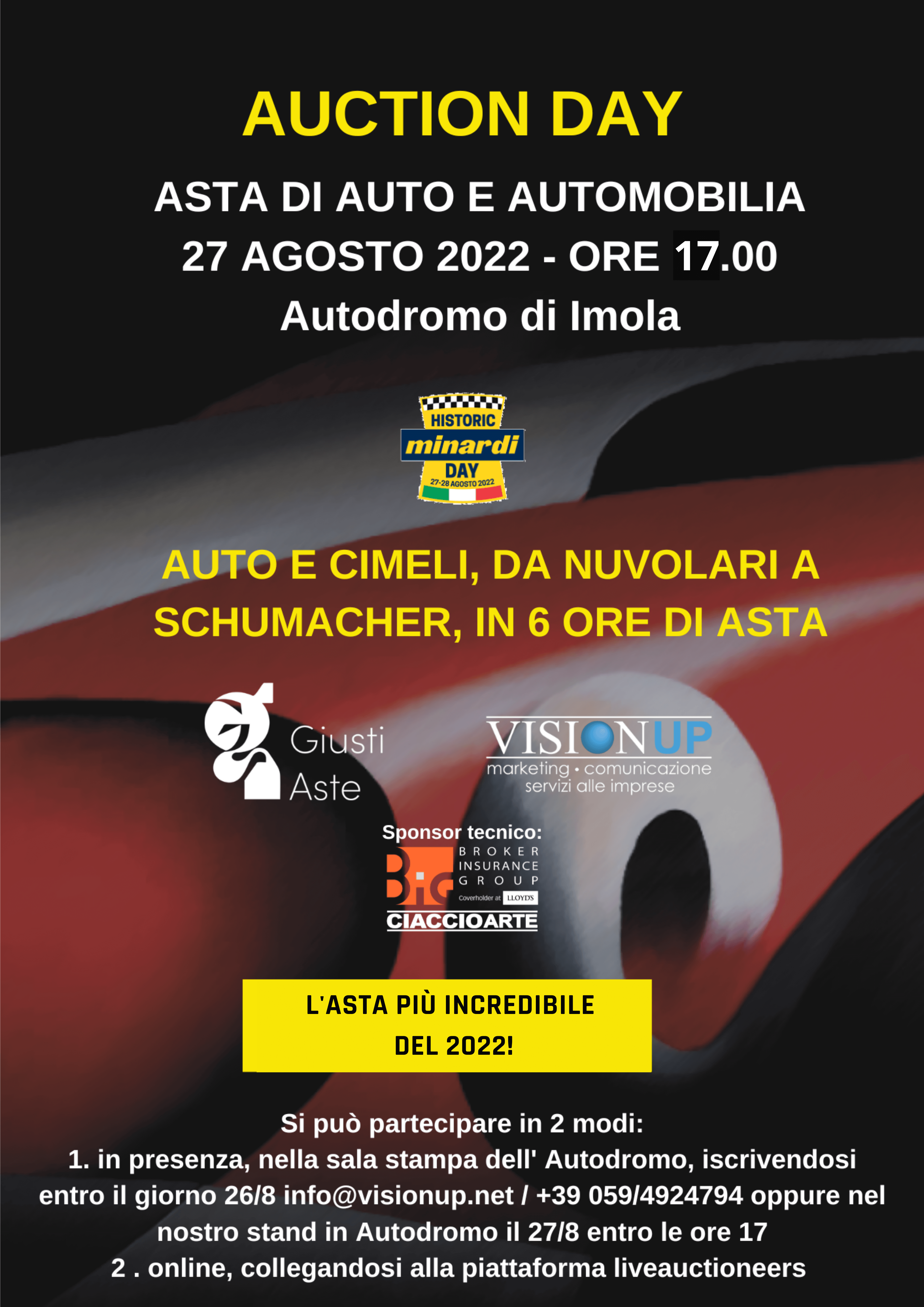 Saturday, Aug. 27 in Imola from 5 p.m. – 6 hours of auction in presence and on worldwide platforms with hundreds of automobilia and memorabilia items – Schumacher's and Alboreto's helmets, memorabilia belonged to Tazio Nuvolari and precious pedal cars from the early 1900s – motorcycles, classic and sports cars.
With hundreds of items and an estimated duration of about 6 hours, it will be a great and original automobilia auction on a European level, the one scheduled for Saturday, August 27, during the Historic Minardi Day event at the "Enzo and Dino Ferrari" Autodrome in Imola.
We are talking about a unique event in Italy in the field of vintage motoring, the thematic auction "AUTO D'EPOCA E AUTOMOBILIA," which will offer a rich range of cars, motorcycles, accessories and objects related to the world of vintage motoring.
In fact, on the occasion of the annual event created by Giancarlo Minardi -which brings together motor enthusiasts in Italy and abroad – Giusti Aste and Vision Up will curate this important and unique event to be experienced in presence or on worldwide platforms.
Among the cars proposed for sale there will be a beautiful Porsche Carrera Cup in which the champion Andrea Mordini won the Italian championship in 2007; a very rare Bmw Group 5 from the 1970s and a multi-win Bmw 2002 Tii Group 2. At the auction there will be also the Cizeta Moroder V16T "dummy" displayed at the 1988 Los Angeles Auto Show. Other interesting cars are a Qvale Mangusta, a car produced in only 280 pieces, and a Ford Focus TCR 2000 that toke part in several competitions in Asia. Another interesting car is the '58 De Sanctis Formula Junior, driven by the driver Antonio Maglione in 1959 and 1960. Even the motorcycle section is interesting: here we can point out a beautiful LGM racing bike, built in Modena in the 1970s, by Paolo Marcheselli for the 350 cc championship, and a beautiful Moto2 Suter, from the former 2011 Kiefer team, as the experts say 'a great piece'.
Then there will be a top section, with over 20 memorabilia belonging to the great Tazio Nuvolari, The Flying Mantuan hero, an icon of the epic racing period and a free and fearless way of life.
Among the items up for auction we will find an autographed letter , some personal and racing accessories, some suitcases used during trips around the world and other items belonged to and used by Nivola.
For collectors and enthusiasts this is a once-in-a-lifetime opportunity! Anyway the auction will focus on a multitude of categories in order to satisfy collectors and amateurs: in addition to cars and motorcycles, Formula 1 body parts, accessories, automobilia, helmets (for exemple the original helmets of Michael Schumacher, Michele Alboreto and Alex Zanardi helmet used in Indianapolis), drawings, paintings, sculptures, watches, models, clothing, prints, posters and other various curiosities will be auctioned. There will follow, in order of importance, dozens of lots, different in type and value, but all to be discovered, with real bargains for excellent investments, as well as, of course, for personal gratification .
We would like to point out a rich bibliographic and graphic vintage section, including paintings by artists whose works have represented this magnificent sport . For exemple: Michael Turner, the leading English painter in the field; Don Pears, another figurative legend, the Italian Antonio De Giusti, an authentic symbol in Italy, and Alessandro Rasponi, the contemporary artist of the Motor Valley. A very interesting section is the one of historic pedal cars with very rare pieces from the early 1900s onward. They are original pieces that marked the passion of young people of the time, and now they are the object of true Historic collecting. These pieces include an important '25 Alfa Romeo P2 belonging to the Florio family.
Among the most significant items included in the auction there will be an important collection of original Ferrari clothing, the one from Sergio Vezzali – chief Ferrari mechanic for many years.
An absolute rarity is a Ferrari team mechanic's suit from the early 1970s.
It will be possibile to bid for an incredible collection of historic car and motorcycle key chains. Moreover, some sports watches and car parts from great racing teams and many other curiosities will be beaten. A special event for motoring enthusiasts, a wide range of original and refined opportunities for both sporting people and art and custom enthusiasts.
The appointment will be at the Imola Autodrome on Saturday, August 27 at 5.00 pm
Appointment at the Imola racetrack then Saturday 27 August at 5.00 pm.
The appointment will be at the Imola Autodrome on Saturday, August 27 at 5.00 pm
– in presence at Autodrome press room  for subscriptions info@visionup.net +39 059/4924794.
– You can also join the auction on line on the website  www.giusti-auction.com
If you want to view the lots in the auction www.giusti-auction.com